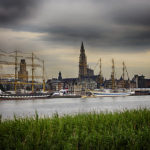 Sail Training International
Sail Training International (STI) is de organisator van de Tall Ships' Races 2016. Dit is een erkend liefdadigheidsfonds dat jongeren een zeilavontuur wil laten beleven, ongeacht hun nationaliteit, cultuur, religie, geslacht of sociale afkomst.
Waar staat "Sail Training" voor?
Sail Training is een superleuke en avontuurlijke outdoor activiteit voor mensen van alle leeftijden en niveaus. Via het zeilen op zee kom je jezelf tegen, ontdek je verborgen talenten en ervaar je de waarde van teamwork. Het is een activiteit die zelfvertrouwen en verantwoordelijkheidsgevoel geeft en leert om de ander te aanvaarden ongeacht zijn of haar sociale of culturele bagage. Verder leer je ook om gecontroleerd risico's te nemen.
Al wie deelneemt aan deze sail trainings op grote zeilschepen ervaart het als een positief en onvergetelijk avontuur
Bron: http://tsrantwerp.be/