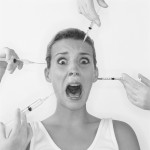 Donderdag. Kreunend word ik wakker met 'I want to be a billionaire'
So fucking bad…zo voelt het ook. Te vroeg, Te kort. Goed geslapen maar op donderdag worden die 50 lengtes voelbaar. Dat is al een tijdje zo. Althans een aantal weken, maanden misschien. In de aanloop naar dat die 50. Uitkijkend naar een langer-dan-7-uur-slaap-nacht.
Every time I close my eyes I see my name in shiny lights…FIFTY WIFTY.
Een glimlach om de mond bij het lezen van een bericht via Linkedin. Ze zijn me niet vergeten de snotneuzen van weleer. Het bericht kondigt aan dat in het dorp een 50-jarige viering wordt gehouden. In juni.
Ze zijn er tijdig bij.
Mijn geboortedorp. Allemaal Fifty wifties bij elkaar.
Ik verstuur onmiddellijk mijn contactdata zodat ik de uitnodiging deze keer niet zal mislopen. Jaren heb ik niets vernomen van 'het dorp'. Uitgezwermd naar grote steden (Antwerpen) en liet de kleine garnaal achter.
Sedert mijn zoon zich in de schoolse gangen van Wase instituten begeeft en zich in de Wase Zwemclub naar een podium zwemt bots ik af en toe op een klasgenootje van weleer.
Hoe lang is juni nog? Wat moet ik nog doen? Detox, Botox, Collageen, Facelift dan maar?
Meer lopen, die 3 kilo's moeten eraf – love handles overboord. Welk pak, strak, los, kort gekapt….
En het grootste vraagteken: waarover zullen die gesprekken gaan? Pampers zijn we ontgroeid. Liefdesleven is nogal a-typisch verlopen, werk…sport. Maar ook daar ben ik in de entourage redelijk meer uitzondering dan de bevestiging van de regel.
Ach; we go, we park, we talk and walk. We drink and we will be happy. FIFTY WIFTY is de nieuwe toekomst.
Thank God it is Thursday!