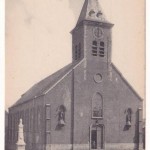 De Piazza van nu, de verdrongen m'as tu vu – 'plas albert' du knock, dat was gewoon de portiek van de Kerk vroeger. Uitgaan was er niet bij, maar lanterfanten en had ge mij gezien en ik jou dat deed je aan de portiek van de kerk, voor of na de mis. Waar bleef de tijd…
Kieldrecht:
Het Oorlogsmonument ter nagedachtenis van de slachtoffers of vermisten tijdens de eerste wereldoorlog werd verplaatst naar de achterkant van de kerk.
Wie oude foto's heeft mag me graag contacteren.
2014
Back in time
Wandel door de tijd.
[flgallery id=56 /]