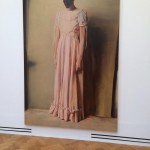 As sweet as it gets…Borremans. Een interessante tentoonstelling, ook om met je opgroeiende pubers te doen – ze vergeten heel erg even die multimedia En ze leren waar De Bozar zich situeert en wat voor moois er Nog bestaat.
The Angel, The House of Opportunity….en The Son kregen mijn speciale aandacht/spraken mij het meeste aan.
"Mag ik?" zoals de gidsen ter plaatse mijn eigen verhalen toedichten aan wat Borremans allemaal, eventueel, misschien zou kunnen gedacht en bedoeld hebben toen hij die imposante stukken schiep?
Een meute dames op leeftijd (neen ik stel dat meute gedrag nog graag even uit, ja ook ondanks de leeftijd) kreeg de eigen idees van de gidsen ingelepeld.
Stijn en ik filosofeerden ons eigen gedacht en nog na; wat maakt de ene kunstenaar gekend,bemind en geliefd tot in Tel Aviv, en de andere niet?
Diegene die het mysterie in ons kan prikkelen? DOEN!
Bozar